16 December – UPDATE: The PHA4 was an exciting gathering of health activists from across the globe! A delegation of attendees from PHM-NA were able to attend. You can read their reflections and more news from the PHA here.
—
4 October – UPDATE: The programming committee has finalized the program and you can see it here. Speakers are still being confirmed.
—
13 August – UPDATE: Travel scholarships available. PHM-NA can sponsor travel for three people to attend the PHA4. Please apply by August 31. More information and application here.
—
1 August – UPDATE: Registration is open now! Registration fees are as follows:
– Low Income Countries: 50 EUR
– Middle Income Countries: 100 EUR
– High Income Countries: 200 EUR
– All students: 50% of actual registration fee
You can also apply for partial waiver of the registration fee. The registration fee can be paid online or at the venue. More details and online registration form on the PHA4 website.
—
4 April – UPDATE: The call for proposals for self-organized activities is available here.  Sessions should be in line with the broad themes of PHA4 and the People's Charter for Health. Each activity should be planned for 2 hours, and fees for organizing range from $2500USD (venue of 50 people) – $10000USD (venue of 200 people). Organisations with limited resources can seek a waiver from making a contribution (partial or near-total). The deadline for submissions is July 31st.  Read more.
—
The People's Health Movement is organizing the 4th People's Health Assembly to be held on 15-19 November, 2018 in Savar, Bangladesh. As with previous Assemblies, PHA4 will draw from civil society organizations and networks, social movements, academia and others across the globe to create a unique space for strengthening solidarity, sharing experiences, mutual learning and joint strategizing for future actions.
Especially for those of us in Canada and the US, the PHA4 will provide a unique opportunity to learn from health struggles and successes around the world that are ignored by our media and operate in a different context than that of our advanced/declining capitalist societies. PHA4 will be an exciting space in which you can participate with global health activists to:
evaluate and critically analyze current processes and policies impacting health and healthcare at global, regional and local levels;
collectively review PHM's organization and programming until now and develop a mandate and action plan for the years to come;
enhance the capacity of health activists in civil society to engage with health systems, policy making and implementation, and holding governments accountable;
have constructive dialogue, planning and mobilization around health and the social determinants of health;
continue to build toward achieving universal and equitable access to health and health care within the health sector and across sectors.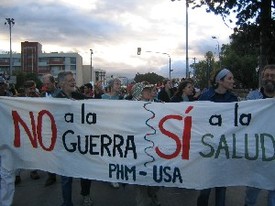 The PHA4 will be organized around four broad themes, or "thematic axes," that will continue to develop over the next several months based on movement feedback to the Assembly planners. These four central themes revolve around:
The political and economic landscape of development and health: Address issues ranging from the dominant economic model of development, power relations among and within countries, trade agreements, and the role of powerful actors such as multinational corporations and superpowers. It will also address the underlying factors, global and regional, driving forced migration and precipitating humanitarian crises throughout the world.
Social and physical environments that destroy or promote health: Examine elements of social and environmental conditions that contribute to inequity in access to healthcare services and to the social determinants of health. It will look at power dynamics associated with class, gender, and ethnicity, along with forced migration, conflict, climate change, and environmental degradation.
Strengthening health systems to make them accountable, comprehensive, integrated and networked: Debate alternative models of healthcare delivery in the search to establish one best suited to promote equity in access, fairness, and accountability based on popular participation.
Continued organizing and mobilizing for Health for All: Key aspects of the struggle for health are the numerous struggles and actions by community-based organizations, NGOs, movements, and larger peoples' struggles. PHA4 will be a platform for sharing experiences, mutual learning, and strategizing for future action. It will be a source of solidarity and inspiration for the continuing struggle.
Around 1,500 activists from across the globe are expected to attend PHA4. PHM-Canada and PHM-USA will be working to organize the North American delegation! If you plan on attending, or are interested and have questions, please let us know. Contact us to get connected.
In the meantime, here's a look back at PHA3: